When I got married over 12 years ago, wedding planning was a lot different. Wedding blogs weren't really a thing yet. The only wedding shows you could attend took place in a banquet hall and were filled with cheesy DJs and big box bridal store fashions. Boy have things changed! Back then the 'on trend' way to preserve your wedding bouquet was to let the flowers dry out, then mix up this goo to spray them with, "preserving" them as a dusty, dried-up reminder of your wedding day. Even my wedding photos were before digital was really a thing so each frame of film was slightly precious. With digital, photographers are more free to shoot liberally and that includes getting gorgeous detail shots of things like the flowers that can be hung up as art long after the party is over. Another way you can have a keepsake of those gorgeous florals is with the ever growing trend of custom bouquet paintings.
Bari J. is an artist that I have known of for many years, not from her bouquet paintings but because of her fabric designs. My mom is a quilter and passed on that love of sewing to me. From a young age, she taught me to sew. She made her own wedding dress so it only seemed natural that I do the same when I got married. When I'm looking for fun projects to sew, whether it is a pillow for the living room or a dress for my daughter, I love bright, bold fabrics. That is exactly what Bari J. designs. She is first and foremost a painter. It is from those paintings that her fabric designs are created. When I saw that she was also taking commissions for custom bouquet paintings I was so excited. Prices for these custom originals range from $225-$690 which is actually a great price for a custom piece of art.
I love how gestural her brushstrokes are. She has also been working a lot with thick textures in her paintings too which are even more amazing. Her Instagram feed is a constant source of happiness. 
While looking around I would be remiss not to mention that there are a lot of other amazing artists out there creating custom bouquet paintings. If this seems like something you'd like to do, a quick internet search will yield a ton of results. Here are just a few other options.
Megan Carty has a style that is all her own. I love the bits that look unfinished along with the drips that cascade down the canvas. Prices start at $500 but if you sign up for her newsletter you can get 15% off your first custom painting.
Erica Eriksdotter is another artist with a bold use of color and a more refined style of painting. Her prices vary based on the size of the finished piece.
Artist Ashley Joon creates painterly works based on your wedding bouquet, ranging in price from $275-425.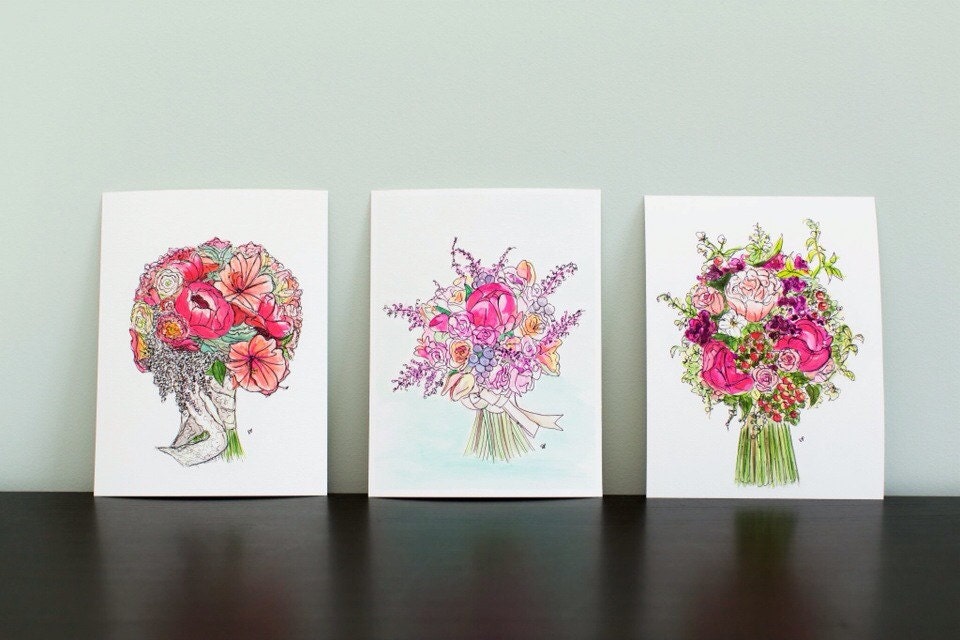 Sarah Park Events takes a more whimsical and illustrative approach to her bouquet paintings. Better yet, she is also an event stylist so she knows weddings! She has an Etsy shop where you can get a custom illustration for only $175.
Last but not least, Chicago's own Reenie Rose creates the most incredible photo-realistic oil paintings. Honestly, I would have never believed these were paintings if I hadn't seen her working on one in person. Her attention to detail is incredible. Contact her directly for prices.
So I hope some of these artists have inspired you to think about ways to preserve your wedding bouquet. Having a custom piece of art in general, is a wonderful thing… but to have one that is a permanent reminder to one of your very best days is even better.