Are you looking for a chic and clever way to present gifts to your out-of-town guests or to your bridal party? Do you need a cute tote to cart around your wedding day necessities? Well then, look no further than the calligraphy-printed tote bags of Dream State! Kristina, the creator of these lovely items, was kind enough to take some time to fill us in on her work and the exciting things happening in her life.
CVA: Tell us about you! Where are you from, what do you do? What makes you smile?
Kristina: My name is Kristina. I am 25 and live with my soul mate. I grew up in a rural small town in Oregon, and moved to the big city of Portland when I turned 18. I first realized that I had creative skills in the 6th grade. I was asked to draw the person sitting next to me, and everyone in my class including my teacher commented on how well my depiction was of Jesus– (yes, Hey-Soos). I started drawing in my spare time ever since. I will be taking on Dream State full time here in the next couple of months! [Corinne's Note: She's been working in the hotel industry for the past 6 years!] I am very excited to leave the 'service' industry to pursue my goals and dreams. I smile doing the things we love — road trips and photography are top on our list!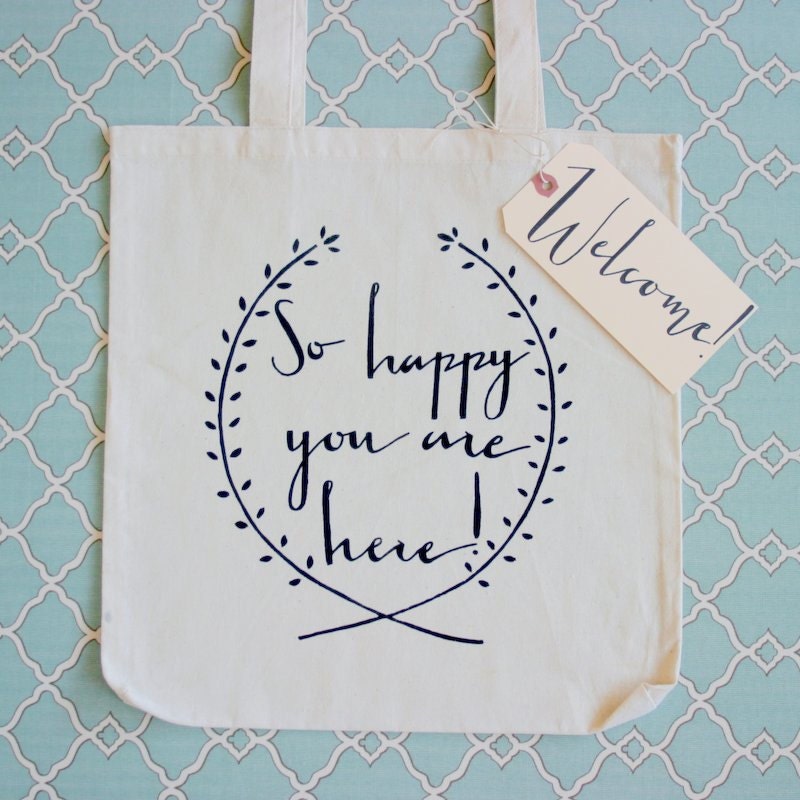 CVA: How did you get started making your printed bags? Where did the idea come from?
K: I was given a screen printing machine for my birthday a couple of years ago. My boyfriend co-owned a graphic t-shirt company, and he got me started with some basic supplies. I started trying to think of ways to be frugal and make cute gifts for all occasions. For my mom's 50th birthday I wanted to make her a screen printed canvas tote bag for her shopping trips. It also doubled as a gift bag that said "Happiness is Homemade". I loved how it turned out, and started looking around for reasonable tote bag suppliers. It took off from there!
CVA: Where do you draw inspiration for your work? 
Kristina: I have always been admirable for the wedding parties that put together wedding tote bags as welcome gifts for the guests who came from afar. As the person at a hotel that gives the goodies out at check in, I get to see the reaction of everyone's face! The items make everyone happy, and get everyone excited for the occasion!
CV: What do you love most about your job/working in the wedding industry?
Kristina: I get to express my creativity, and people get excited about my work! There is nothing more fulfilling than being appreciated for your work, no matter what kind of job you are doing!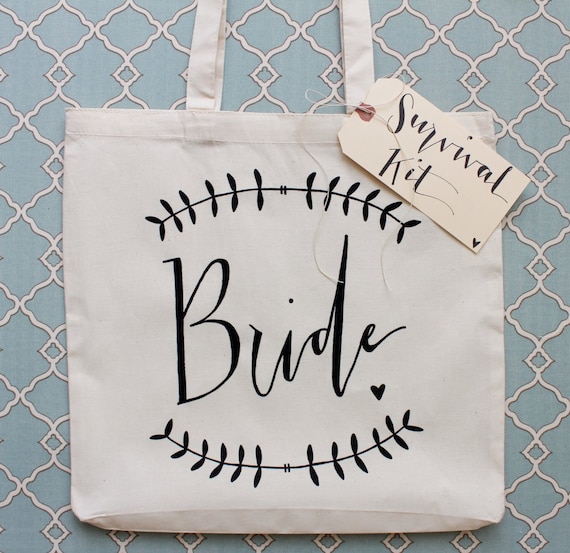 CVA: What three words best describe your work?
Kristina: Simple, Elegant, Chic.
CVA: How would you describe your ideal customer/the person you design for?
Kristina: Ohhh…I love a bride that plans well ahead of time! I love to make custom designs specifically for a wedding party and their theme. I feel like I am a part of their big day, and I get so much enthusiasm from the couple who came up with the design. They get to see their idea in action!
CVA: What are some of the most creative uses of your items that you've seen? Any fun custom projects you'd like to share?
Kristina: I offer custom handwritten gift tags to help customize the orders. One gal asked if I could write "Be My" on her tags. For the bags she wanted them to just say, "Bridesmaid/Maid of Honor". That way she could ask them to be in her wedding party and filled them with gifts at her bridal shower. They could then use the bags on her wedding day. I thought it was a brilliant idea to give them a double purpose.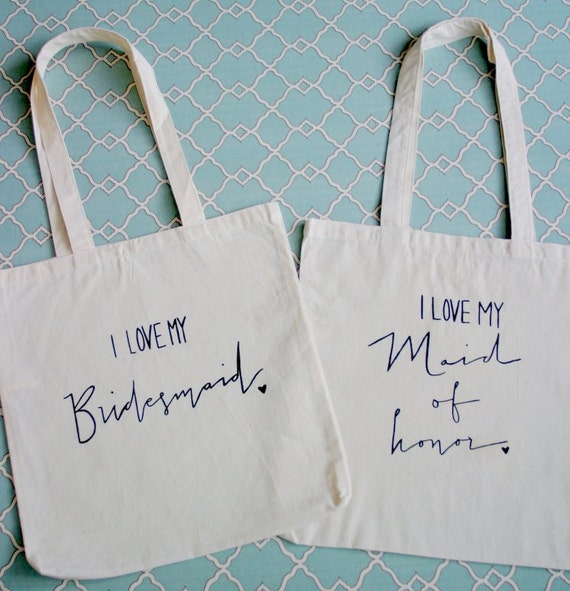 CVA: Do you create custom pieces?
Kristina: I have only done a couple custom designs, but plan to be able to offer them more often in the next couple of months, once I quit the day job.
CVA: What is your favorite welcome bag you've created?
Kristina: My favorite design so far was a custom Nantucket Island map. It had the couple's wedding date, tourist attractions, and a heart over the beach that they were getting married. I felt very involved with the whole occasion with all of the research I did on the island, and attractions.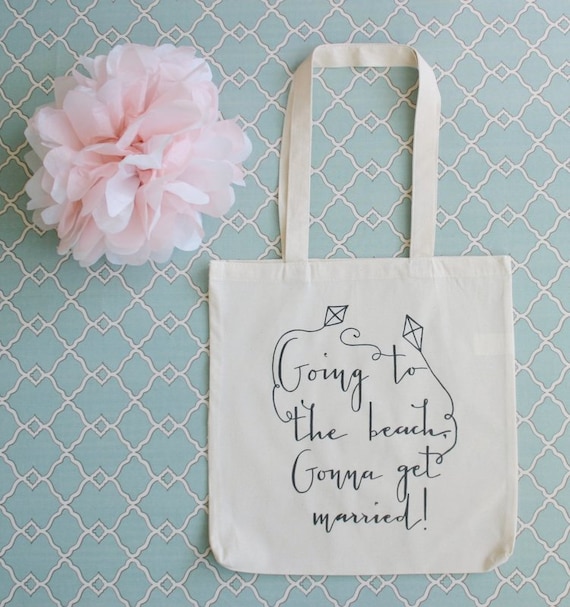 CVA: Are you working on anything new or exciting at the moment?
Kristina: I just got an inquiry for a "Filled with Joy" bag. The couple is filled with joy that [their guests] are there. The bags get filled with goodies that bring the guests joy!
CVA: At IndieWed, we love small and/or alternative wedding businesses. Any fellow indie vendors you'd like to send a shout-out to?
Kristina: My mom (my inspiration) does do custom hand stamped jewelry and accessories! Her shop name is Always A Memory. She is not entirely focused on weddings, she has something for everyone & every occasion: www.etsy.com/shop/AlwaysAMemory
Thanks, Kristina, for spending some time with us! Be sure to visit Kristina's Etsy Shop, Facebook Page & Blog! 
Corinne Van Arsdale is a Wedding Coordinator based in Madison, Wisconsin and serving Madison, Milwaukee, Chicago. Check out her website, blog, Facebook and Pinterest. If you know of a small business/hand-crafter you'd like to recommend for a feature on Handmade Monday, email Corinne at corinne@canvaswedding.com.