No doubt, by now you've seen all the images of the fashion from last night's Oscars.  While watching, instead of the fashions, I was actually struck more by the set and could imagine all those lights as a gorgeous ceremony backdrop.  Of course, since this wasn't the focus of the evening, I had a hard time finding many good shots of just the backdrops. So ignore the people. ;)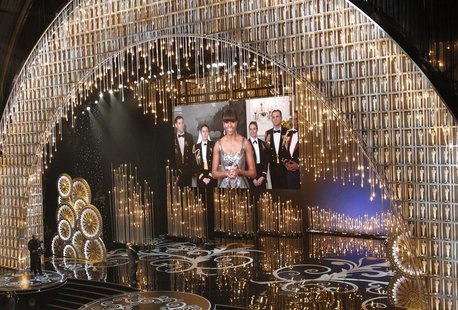 Designed by Tony winning scenic designer Derek McLane, the set included these amazing warm lights that rose from the stage and suspended from the ceiling.  They looked like thin illuminated rods with a bare bulb on the end.  The lights cast a beautiful glow onto the stage floor.  The entire stage was surrounded by an arch of tiny oscar statues that looked more like a graphic pattern from a distance.
Towards the wings of the stage were these oversized rosettes also made from oscar statues.  The whole set mixed metallic tones of golds and silvers with touches of white .
So how could you get this look for your big day?  Here are a few suggestions.  Consider using strings of white holiday lights draped from the ceiling.  For added effect, continue them down to the floor.
Perhaps you want to make your own backdrop.  This example from Apartment Therapy includes a mix of lights and mirrored garland.  On a larger scale, this could be quite dramatic.
As for those rosettes, consider making your own paper pinwheels.
Paper rosettes can either be made using plenty of tutorials found online or you can purchase some pre-made honeycomb decorations.  Whatever you choose, combining some lovely lighting effects with some paper rosettes, you can have your own Oscars inspired ceremony backdrop.